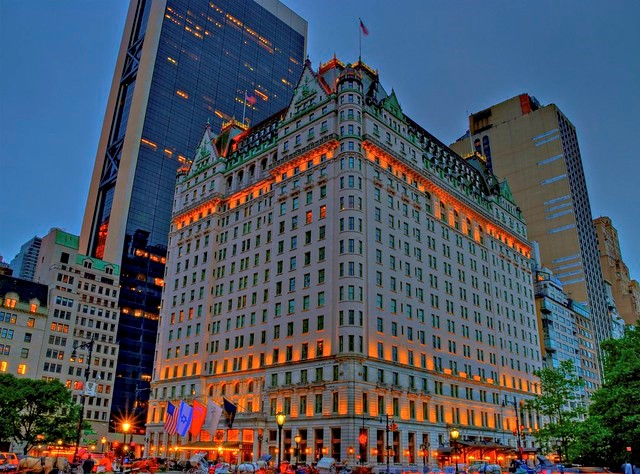 Classic-Style Stay: 6 Iconic Historic Hotels in New York
Famous hotels in New York were built by both representatives of famous American families and immigrants who came there for the American dream. In addition to the impeccable hospitality offered in all these establishments, each of these hotels is known for its strict style and originality, which makes them popular among business travelers.
During your next visit to New York, look in them to find out where many world-famous dishes and cocktails were born, as well as where aristocrats, presidents, millionaires and Hollywood celebrities liked to stay.
In order to get to these hotels, book Payless car rental at JFK Airport – your vehicle will be prepared right upon your arrival. This is a very convenient option for those who appreciate time, since it's not necessary to wait for the shuttle to get to the city.
Waldorf Astoria Hotel
(photo by bkwan100)
The famous Waldorf-Astoria Hotel appeared due to family rivalry between two very rich cousins ​​from Astor family. A 13-story hotel was built on the intersection between 5th Avenue and 33rd Street. In turn, four years later, John Jacob built a 17-story hotel just a few feet from the first hotel. Subsequently, they were connected. It was the first hotel to be completely electrified, room service was first provided there, and for the first time, ladies were able to dine in the same room as the gentlemen.
In addition, the famous hotel was the birthplace of many famous dishes such as eggs Benedict, Waldorf salad and the Thousand Islands salad dressing.
Address: 301 Park Ave, New York, NY
Room price: from $210/day
The Algonquin Hotel
(photo by JRRollins)
The Algonquin Hotel is situated in the Theater District of New York in the center of Manhattan. A few decades ago, it was the oldest hotel in the city and a meeting place for many urban celebrities – from writers to actors. Despite the fact that the hotel has been reconstructed several times, it still maintains its literary reputation, and is known as a 'movie celebrity', appearing in many films.
Since its opening in 1902, Algonquin has received the Nobel Prize winners, and for the first time, single unaccompanied women were allowed to stay there.
Address: 59 W 44th St, New York, NY
Room price: from $280/day
The St. Regis New York
(photo by John O'Connell)
This hotel, named after the patron saint of travelers, St. Regis, was built by John Jacob Astor IV in 1904 as the highest hotel in New York in the most exclusive residential area.
Since the opening, this luxurious hotel furnished in the European traditions, has been visited by many aristocrats, representatives of the royal nobility and politicians, who called it 'home away from home'. The hotel has a King Cole Bar, where, according to one version, the Bloody Mary cocktail was invented.
Address: Two East 55th Street At, 5th Ave, New York, NY
Room price: from $880/day
Warwick New York
Publishing magnate William Randolph Hearst built the hotel as a love nest for him and his mistress – actress Marion Davis, and also as a place to house his Hollywood friends who often visited Ziegfield Theater situated across the street from the hotel.
Thanks to this, Warwick has an impressive guest list, including such celebrities as Elvis Presley, Elizabeth Taylor and the Beatles. Undoubtedly, it can be called a widely-known hotel in New York. A unique feature of the hotel is the Murals on 54 Restaurant, painted by Dean Cornwell in 1937, featuring an image of Sir Walter Raleigh and a lost colony in Roanoke.
Address: 65 W 54th St, New York, NY
Room price: from $225/day
The Carlyle
The Carlyle became one of the first residential hotels – its suites were used for long-term rental, and they were a real home for lodgers.
In addition, the hotel was called the New York White House, because President John F. Kennedy had apartments at the Carlyle, and it's believed that he used the network of tunnels under the hotel to meet with Marilyn Monroe. The Bemelmans bar at the hotel features frescoes by Ludwig Bemelmans, which depict four seasons in Central Park. They still delight secular people, politicians, artists and tourists who visit the bar.
Address: 35 E 76th St, New York, NY
Room price: from $800/day
The Ansonia Hotel
The Ansonia Hotel was built at the beginning of the 20th century by William Stokes, who predicted that Broadway would one day surpass the fame of the 5th Avenue and become the most famous street in New York in the future.
Therefore, he built the Ansonia Hotel on Broadway, near the intersection with 73rd Street, just one block north of the metro station. In those years, the term 'hotel' meant, in fact, a residential hotel, looking more like a luxury apartment with full service and concierge.
The French mansard building contains 1,400 rooms and 230 suites covering 550,000 square feet. Beautiful marble spiral staircase connects all seventeen floors, while the ballrooms and dining rooms can accommodate 1,300 guests at once.
Address: 2109 Broadway, New York, NY
Room price: from $2,350/day