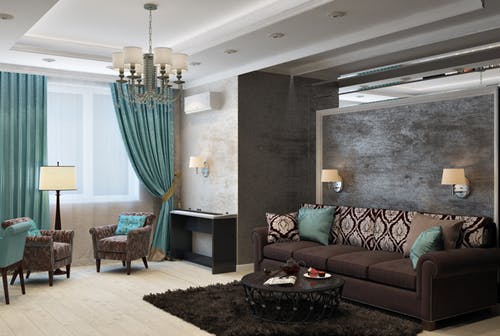 What furniture will go best with your living room? Discover here
From schmoozing with the loved ones on that comfy sofa, or sitting curled up wordlessly on an armchair daydreaming, our living rooms see it all.
The walls of our living room have witnessed the stolen kisses on the futon.
Tears falling silently like a broken string of pearls falling on that ottoman rug.
Sounds of sheer joy and enthusiasm, coupled with cheerful chaos echoing off the walls and happy faces are reflecting on the massive mirror during family gatherings.
 This is one room in our house where we live in life!
Setting up the living room for life to blossom
Deciding upon the interiors can be tricky!  People usually end up grouping wrong furniture or setting them up in an odd way.  Some even choose such a variant style it becomes visually testing! The living room is the most preferred area for getting the brunt of enlightening creative revelations, as surmised through a survey.
To avoid such mistakes and make sure your living reflects calmness and exudes perfection, make sure you follow the right tips and our guide to making it work!
Engaging rightly with the entertainment center
You should never be going wrong with the entertainment center! It is the crux of any living room.  The entertainment center should have multiple space options. The best thing you can have for your entertainment center is to have detachable units. This will allow reorganization.
Generally, when we are looking into having an entertainment center made, we tend to go overboard. Looking to include as many storage spaces as possible or ensuring we purchase huge screens. It is best advised that the entertainment center should occupy only 30% of the room!
You should place your entertainment unit against the longest wall of the room if you are looking to make it the focal point.  The entertainment center should only consist of a TV stand with space for a gaming console when it is not supposed to be the focal point.
A full-fledged entertainment center can house multiple things like:
your mini library
storage space
gaming gadgets
board games/cards
extra blankets
Displaying the A-game with mirrors
Having mirrors in your living room is practical, and at the same time, it adds space.
 No, don't get us wrong there is no possibility of hidden doorways or halls!
You have to make changes to the room space you have. But in case it is smaller, or you are looking to make it perfect with all your inclusions. Mirrors are the right way to do it.
When we place a mirror, we let physics do the magic. As we can see, things look farther than they are, creating an image of spacious rooms and airy interiors.
When you are looking at mirrors to enhance the interiors aesthetically, you can play with the frames and shapes of the mirrors. Buying the one that best suits your requirements, and the layout of the room can be super beneficial.
Sectional Sofas- making space for one and all
Sectional sofas are so in nowadays. If you are looking for some cool options in Hawaii, then you can browse furniture showrooms in Hawaii. The furniture showrooms can guide and help you make the right selection.
Sectional sofas are magic on their own. You can very easily detach and place the pieces as per your needs. This allows space for you to add a touch of freshness with every new placement of the pieces. Plus, they are ideal when it comes to seating space!
The hug of an armchair should not be denied
Ah! The feeling of warmth and that tingling comfort when we curl up in the armchair and allow the softness of the fabric to make us feel home.
The embrace has such a cherish-able ethereal feeling that everyone needs it!
Armchairs usually are paired up with ottomans. This allows functionality and comfort to go hand in hand. A woven throw or blanket adds to the décor and enhances the interiors.
Ottomans- stylish storage
Ottomans are perfect when it comes to a minimal addition of seating along with storage. They are super practical, and we should be a part of your living room!
63% of people are always on the look-out for better storage options. And ottomans provide you just that. They help ensure that your living rooms remain classy with all the hidden spaces for you to stow away your things.
Considering the fact 72% of people are on the lookout for more space, ottomans help you out there too. They provide minimal seating space and hence make your living room spacious. The additional benefit that you can avail is that ottomans can be arranged as and when wanted!
Pointers to spruce your living room, right!
There are always do's and don'ts when designing or redecorating your living room. Some things you can keep in mind are:
Theme
Always work with a theme. You do not want a knick-knack of furniture being added to your living room. The clash could create an odd aura and give the wrong vibes. The theme should be soothing and induce a 'feel-good' kind of situation.
The flow of the room
Arrange the furniture such that moving around the room is not a "task." Instead, it should be naturally free-flowing as it helps ensure better movement and minor restrictions.
Lighting
It is highly advisable to allow natural light to flood in and give a golden touch. Besides, the artificial lighting shouldn't be jarring, but placed such that it enhances visibility!
Final Word
The living room is one place in our homes where we live all shades of life. Decorating it right and ensuring that it has the "right" feel will allow the right kind of energy to pulsate through it energizing our lives the perfect way.
Though we usually end up crossing the budgets that we set for interior designing, the Living room is one room that deserves the splurge and gives you back in the form of comfort and love forever.