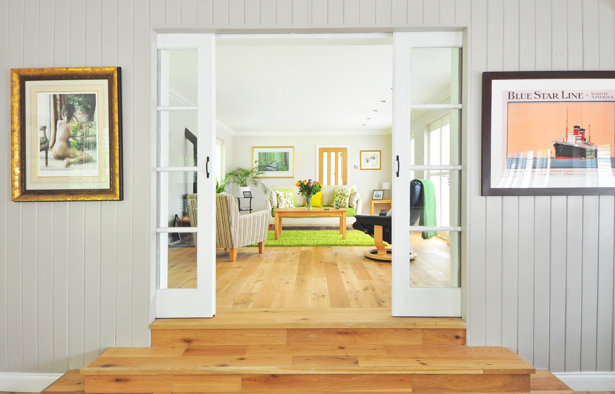 DESIGN A BEAUTIFUL LIVING ROOM WITH OUR USEFUL GUIDE
Up she gets and washes her cup,
Determined to finish the room.
She checks the paint and sees that it's dry,
Sweeps the floor with a broom.
Brings in a bookshelf, some lamps, and a painting
Pillows, photographs, china, and tables.
_ Wendy Wroz
The living room, aka lounge, is an area that is close to every family member's heart.
We spend a lot of quality time with our families here. Also, it is the first thing that you and your guests see upon entering the house.
Therefore, enhancing its aura will make it look inviting, helping us to unwind after a tiring day at work.
Beautifying your living room can be an amusing job, particularly if you have a clear mindset of what you want. And even though the lady in the above poetry seems to do it all by herself, you could definitely ask for some professional help while setting up your lounge.
A UCLA study showed that one of the most-used areas of the house is the living room. Thus, decorating it needs a lot of attention as you have to make it welcoming, practical, as well as comfortable.
With the correct approach, you will be able to execute your ideas into a well-designed space that everyone in your family will approve.
Let us shed some light on a few elements to adorn your living room:
COLOR CONTRASTING:
Colors are the foremost factor in interior design that has a profound influence on our mood.
If you do not pay attention to the choice of colors, your living room design won't turn out appealing at all. Colors that complement each other can introduce various emotions when blended in the interiors of a room.
Moreover, when you agree on specific color contrast, it is easier to carry out the rest of the setting.
A stable, welcoming atmosphere can be achieved by using cool hues for the wall, such as blue, grey, and touches of black. If you desire a vivid look that gives off cheerful vibes, you can contrast any of the cool hues with yellow and red. When you incorporate these warm colors, it helps create depth in the ambiance.
It is advisable to avoid the all-white look, as it will give a pristine, unapproachable aura which is not suitable for a living room.
UPHOLSTERY:
Your choice of upholstery will hold together all the elements of the living room interiors, giving it a finished feel.
The color and pattern of your sofas and curtains don't need to be the same. You can select a theme color, and go for a mix and match upholstery.
Select a durable fabric which can sustain all kind of activities like the kids playing, or eating in the living room. As for curtains, use a lightweight material.
PRACTICAL FURNITURE:
The furniture is no doubt, the essence of a living room. Depending on how much space is at hand, you can select and place the furniture wisely.
A sectional sofa, one of the most commonly used furniture for the lounge, is convenient in large spaces. It's a single piece of furniture, which gives you the ease of placing it on one corner, while many people can adjust on it comfortably.
If you have a small living room, you can go for a love seat, and a settee along with some ottomans to create sitting space. Choose simple furniture and adorn it later with accessories such as throws and cushions.
A coffee table is a must for a living room. There are numerous options available, but acrylic coffee tables without frames are trending nowadays. They do not take any visual space and add a lot of styles. As they have waterfall edges, they do not pose any hazard to kids.
THE MEDIA WALL:
The wall dedicated to entertaining you, aka the media wall, is a vital part of most living rooms.
A lot of people have a habit of using the living room to watch TV. In the words of singer Fiona Apple, "Home is where my habits have a habitat."
Although there is no TV present in 44.28% of living rooms assessed by the Home Stratosphere, we cannot deny that entertainment is an essential feature of the living room. You can install a shelf on your media wall that displays your books, and a few showpieces. Mount your TV at an appropriate view angle. You can also place a floor standing unit beneath to create more storage space. Keep minimum things on it to pull off the neat look.
LIGHTING OPTIONS:
Proper lighting is the key to achieve the enticing ambiance in any room. For your living room, we would advise you to use two kinds of lighting.
An ambient light that is in the center of the ceiling will light up the whole room. Whereas accent lights, such as the pendant lights, and lamp, would be useful when you need to highlight a particular area of the room.
CONVERT HALF OF IT IN AN ANNEXE:
According to the 9 lac living rooms surveyed by the home stratosphere, 35.49% of them were very large. An excellent idea to make use of the ample space is to convert half of it into a self-contained granny annexe.
A captivating granny annexe can add value to your house, still leaving you with an alluring, cozy living room. Annexe is mostly used by either an elderly family member, a guest, or for the teens to hang out. It would be great if you lay it out beautifully to let the tenants fully enjoy their surroundings.
MIRROR ON THE (CORRECT) WALL:
If you wish to create more space, you can hang a mirror on the wall adjacent to the window. The view will be reflected, giving an illusion of another window.
ADD A TOUCH OF GREEN:
Plants will decorate your living room better than any lamp or centerpiece. They give a very soothing aura, which is what you are rooting for while creating an inviting space. Reap the benefits of air-purifying plants such as the rubber tree, pothos, peace lily, or the aloe vera plant.
HANG YOUR TRAVEL PHOTOS INSTEAD OF ARTWORK:
Nothing echoes your persona to the guests, not even a magnificent piece of art, like your personal photos hanging in the room.
When decorating your living room, please take out your well-treasured travel photos, and let them make an appearance on the wall. You can either make a beautiful, chronicled collage of them or hang them separately framed.
CUSHIONS GALORE:
Throw some bright colored pillows to give those vivid vibes of a welcoming room. Do not go with the same color for all cushions, experiment with colors as much as you can.
RUGS WITH PATTERNS:
A rug with a catchy pattern can be the center of attraction for your living room. Select the rug corresponding to the size of the room.
If your upholstery is intricately patterned and textured, go for a dark-colored, plain rug. But if it is in plain contrasting colors, your rug ideally should be patterned.
Have something to add? Please show us your living room decor in the comments below to inspire our readers.